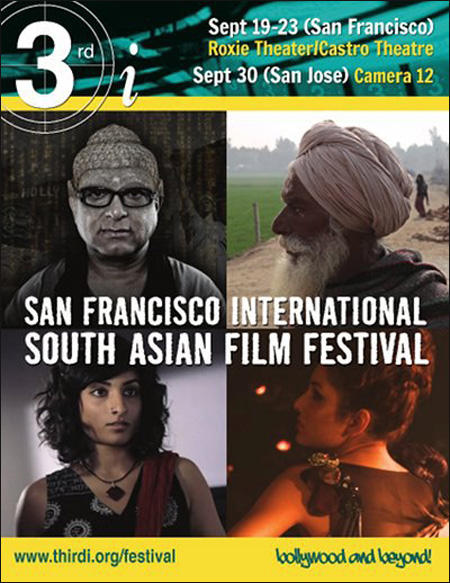 San Francisco film fans! You are invited to 3rd i's
San Francisco International South Asian Film Festival 2012
, with over twenty films from nine different countries. It's happening September 19-23 at the Roxie and Castro Theaters, and September 30 at Camera 12 in San Jose.
It all kicks off with the award-winning Opening Night film,
The Island President
next Wednesday. Here are some more details about the festival, including a brief rundown of the entire schedule:
3rd i's TENTH ANNUAL SF INTERNATIONAL SOUTH ASIAN FILM FESTIVAL
September 19-23, 2012 @ Roxie and Castro Theaters, San Francisco
September 30, 2012 @ Camera12, San Jose

From art-house classics to documentary films, and innovative and experimental visions to next-level Bollywood: 3rd i Films is committed to promoting diverse images of South Asians through independent film. This year's festival brings over 20 films from 9 different countries including India, Pakistan, Bangladesh, Sri Lanka, The Maldives, Canada, South Africa, UK and USA.

Festival spotlights include emerging voices from Bengali cinema and the Sikh community. Diasporic voices offer narrative features from Britain and docs from Canada and the US. Shorts are aplenty this year, and music moves to the foreground in many films. Women and California filmmakers make a strong showing in the docs and shorts category, and ecology bookends the festival on opening and closing nights.

WEBSITE
Complete program and ticketing information will be available on our brand new website in late August. www.thirdi.org/festival

SCHEDULE/ VENUES
Wednesday, September 19
@ Roxie Theater

7:15PM The Island President
Jon Shenk (USA/The Maldives, 2012, 101mins)


THURSDAY, SEPTEMBER 20
@ Roxie Theater
7:15PM Coast to Coast: Home Grown Shorts
Various (USA/India, 2011-2012, 80mins)
Filmmakers in Person

9:30PM Sket
Nirpal Bhogal (UK, 2011, 93mins)

FRIDAY, SEPTEMBER 21
@ Roxie Theater

7:15PM Runaway (Udhao)
Amit Ashraf (Bangladesh, 2011, 96mins)
Amit Ashraf in Person

9:40PM 3rd i International Shorts
Various (UK/Sri Lanka/India, 2012/2009, 90 mins)

SATURDAY, SEPTEMBER 22
@ Castro Theatre

12NOON Alms for a Blind Horse (Anhey Ghodey Da Daan)
Gurvinder Singh (India, 2011, 113mins)

2:30PM The World Before Her
Nisha Pahuja (Canada, 2012, 91mins)

4:30PM Lucky
Avie Luthra (South Africa, 2011, 100mins)

6:45PM Decoding Deepak
Gotham Chopra (USA, 2012, 74mins)

8:00PM Reception at the Castro Mezzanine.

9:30PM Bollywood at the Castro
More details will be available soon on our festival website (www.thirdi.org/festival).

SUNDAY, SEPTEMBER 23
@ Roxie Theater

12:00PM Adda: Calcutta/Kolkata
Surjo Deb and Ranjan Palit (India, 2011, 52mins)
Surjo Deb in Person

1:45PM Herman's House
Angad Bhalla (Canada, 2012, 81mins)
Angad Bhalla in Person
Panel discussion following screening.

Sunday, September 23 @ Roxie Theater
4:30PM Okul Nodi (Endless River) + I am Micro
Various (Bangaldesh/India, 2012/2011, 66mins)
Tuni Chatterji in Person

6:30PM Valley of Saints
Musa Syeed (USA/Kashmir, 2012, 82mins)

SUNDAY, SEPTEMBER 23
@ Little Roxie Theater

12:15PM Jaagte Raho (Stay Awake) •Classic•
Amit Maitra and Sombhu Mitra (India, 1956, 137mins)

3:00PM Family Album
Nishtha Jain (India, 2011, 70mins)

4:45PM Sikh I Am: Voices on Identity
Various (USA, 2011/2012, 55mins)
Filmmakers in Person

SUNDAY, SEPTEMBER 30
@ Camera12 (San Jose)

1:00PM Azhagarswamy's Horse (Azhagarswamyin Kudhirai)
Suseendiran (India, 2011, 122mins)

3:30PM Big in Bollywood
Bill Bowles Kenny Meehan (USA, 2011, 70 mins)
Bill Bowles and Producer Tyler MacNiven in Person
Looks like they've got a solid film lineup. For further information on 3rd i's San Francisco International South Asian Film Festival, including the complete program and ticket information, go to the festival website
here
.