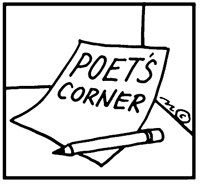 We're getting poetic up here. It's time for another installment of
Angry Poetry Corner
, a regular weekly spotlight on the work of API poets -- not necessarily angry -- curated by Cara, our Angry Asian Intern. Because you could use a little more poetry in your life.
In the corner this week, a poem by Aaron Sayama, chosen from our recent open call:
"Darling"

I burned my fingers
making dinner for you
and fell in love

with the cold,
kept touching
frost-filmed windows

slept tangled in a sack of ice
and awoke with shining scars,
no feeling in my hands—

saw you downstairs
pouring cereal,
you came to me
silently pressed my palm
and kissed it

still numb,
I chopped lettuce for lunch,
the leaves crackling
and frozen,
knuckle-white
Aaron Sayama is a graduate student at the University of Georgia. He's a former intern at the White House Initiative on Asian Americans and Pacific Islanders (WHIAAPI) and the Smithsonian Asian Pacific American Program (APAP). He's hapa-- his father is Chamorro and his mother is white. He writes poetry in his spare time.