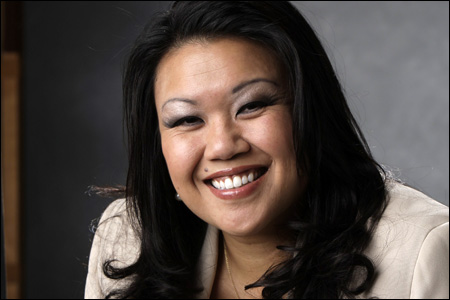 Good people of the world, what is up? It's time to meet the
Angry Reader of the Week
, spotlighting you, the very special readers of this website. Over the years, I've been able to connect with a lot of cool folks, and this is a way of showing some appreciation and attention to the people who help make this blog what it is. This week's Angry Reader is Laarni Dacanay.
Who are you?
Laarni Rosca Dacanay
What are you?
Pinay-American from the Midwest following her dream of working in Hollywood.
Where are you?
OC
Where are you from?
Ethnically Pilipina, my parents immigrated to United States after the Immigration and Naturalization Act opened quotas for educated professionals from the Philippines and they landed in the heart of the Midwest -- Ohio -- I'm born and raised Pilipina-American with a Midwestern background.
What do you do?
Communications at NBCUniversal. Working on our company's diversity and inclusion efforts. I'm also a founding member of Asian Pacific Americans@NBCUniversal (our employee resource group) and extremely proud to have fostered, helped hire, and promoted Asian and Pacific Islander Americans and other people of color at NBCUniversal. Past Co-Chair of the Academy of Television Arts & Sciences Diversity Committee and past Co-Chair of the nationally award-winning Orange County Chapter's Diversity Committee of the Public Relations Society of America.
What are you all about?
Passionate about people, writing, telling stories, news, and increasing the accurate portrayal of Asian and Pacific Islander Americans in media.
What makes you angry?
When negative stereotypes about Asian and Pacific Islander Americans, people of color and other diverse communities are portrayed on television, movies and other forms of media. I hope for a day that roles like the one I'm in don't have to exist anymore -- when the entertainment and news industry can accurately portray and tell our stories in the most truthful, honest fashion. When our diverse communities can go into an open casting call for major, leading roles and be cast. When we are finally accepted as equal.