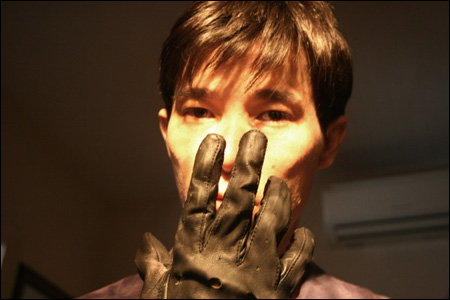 The indie horror film
Chink
, which is being touted as the first Asian American serial killer movie, just teased its first trailer and images over on
Twitch
.
Directed by Stanley Yung, written by Koji Steven Sakai, and starring Jason Tobin, the film aims to mash the angst of an Asian American identity story with the twisted thrills of a slasher flick. Here's the trailer:
More on the movie:
Meet Eddy Tsai. He hates being Asian. He's even changed his last name to "Richards" and lies that he was adopted by Caucasian parents. His lifelong dream is to become a serial killer like his hero Ted Bundy ...

Eddy, played by Jason Tobin, must work to control his emotions in order to be successful at his chosen profession. He refines his skills as he sets off on his killing spree, while working in an office under the oppressive thumb of his boss, Mr. Chang (Tzi Ma). Then a new employee joins the company, Karena (Eugenia Yuan, from Charlotte Sometimes), and Eddy must reconcile his attraction to her with his deep-seated desire to be a mass murderer.
I can already tell that this is not going to be my kind of movie. But you have to at least hand it to this team for trying something provocative and wildly different. Whether or not they can pull it off remains to be seen. For more information and updates on
Chink
, check out the movie's
Facebook page
.