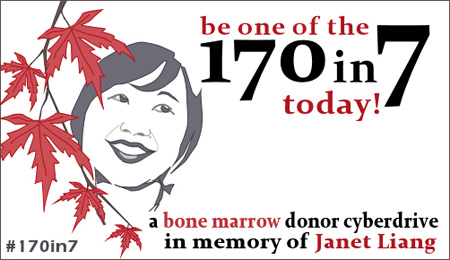 Last week, we received the sad news that 25-year-old Janet Liang
passed away
. She was an amazing young woman whose three-year fight with leukemia inspired a nationwide bone marrow registry movement.
This week, in Janet's memory this blog is partnering with a network of other Asian American websites to host
170 in 7: A Bone Marrow Cyberdrive in Memory of Janet Liang
. And we need your help.
Be The Match

Leukemia is a type of blood cancer and the most common cancer to affect children and young teens. Treatment to save a leukemia patient's life often requires a bone marrow transplant from a "perfect match" donor -- a donor whose blood matches a recipient's blood for 10 separate genetic markers.
Unfortunately, Asian American and other non-white leukemia patients are much less likely to find a "perfect match" donor than white leukemia patients. This is because Asian Americans and other minorities are significantly underrepresented in
Be The Match
, the national bone marrow registry used to search for and match potential bone marrow donors with recipients.
Janet made it her mission to register Asian American bone marrow donors, and thanks in part to her efforts, at least 18 bone marrow matches were made to recipients nationwide. However, last week, Janet passed away without finding a perfect match for herself. Today, many other Asian American leukemia patients are still waiting to find their perfect match, like
2-year-old Jeremy
who was recently diagnosed with leukemia.
170 in 7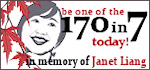 To celebrate Janet's life and her legacy, we want to register 170 new potential bone marrow donors in Janet's name in just 7 days.
Bone marrow donor registration is free, convenient and secure. It's easy, so you should get in on this. Here's how to be one of the 170 in 7:
1. Click on the link: join.bethematch.org/TeamJanet. Fill out the forms to request a free, do-it-yourself cheek swab kit.

2. Tweet about it using the hastag #170in7 to be counted! (If you don't have a Twitter account, send an email to jenn [at] reappropriate [dot] co to be counted.)
And that's it. Less than ten minutes of your time can help you save a life!
Bone Marrow Registry
In about one month, a cheek swab kit will be sent to you in the mail, along with instructions and a pre-paid return envelope. Follow the instructions to swab your cheeks and return the kit. If you are matched (only 1 in 540 registered donors are ever matched), you will then be contacted and asked if you would like to donate your bone marrow. Registering is not a commitment that you must donate; it is only to help match recipients with potential donors.
Most donors are never matched. But if you are matched and if you do choose to donate your bone marrow, that donation is likely to save a young person's life.
Other Ways to Help Out
Donor registration is free for the donor because AADP and other non-profit organizations cover the costs of donor registration through charitable donations. If you are unable to register as a bone marrow donor, please
donate to AADP
to help fund registration costs for other donors, or to the Liang family (PayPal account using helpingjanet@gmail.com as the recipient, or checks payable to "Janet Liang" sent to PO box 1526, Pleasanton CA 94566).
Spread the Word
If you're already registered, please help spread the word about the
170 in 7
bone marrow cyberdrive through Twitter and Facebook, and use the campaign hashtag
#170in7
. If you would like to join your site to this partnership or if you would like more information about the 170 in 7 bone marrow cyberdrive, please go
here
.
(Big thanks to Jenn Fang of
Reappropriate
for coordinating this campaign.)