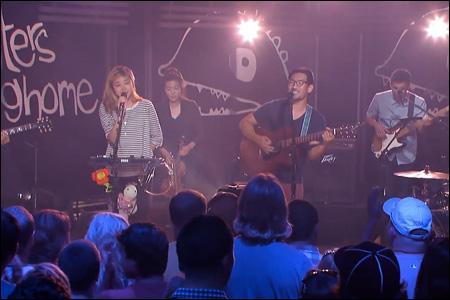 Man. I am reeling from
Monsters Calling Home's
amazing, game-changing performance last night on
Jimmy Kimmel Live
. Yes, this up-and-coming itty-bitty indie band of church kids rocking out on a national television.
How the heck did they get there? It all started with this video,
"Fight to Keep,"
which the band shot, recorded and performed inside their Hondas:
The folks at Honda liked it so much, they invited Monsters Calling Home to play a concert for a large group of company executives... and nobody showed up. But the whole thing was actually a ruse to
surprise
the band as part of the
"Honda Loves You Back"
campaign. The real gig: an invitation to be the special musical guest
Jimmy Kimmel Live
. Here's how it all unfolded:
How you can you not love these guys? Here's the full
Kimmel
performance:
AWESOME, RIGHT? They totally smashed this gig. Also watch their fantastic performance of
"Monsters Calling Home."
Having followed these guys as a fan from the get-go, this couldn't have happened to a more deserving band. Congratulations! I hope their phones are ringing off the hook. For more information on Monsters Calling Home and their music, check out the band's website
here
.