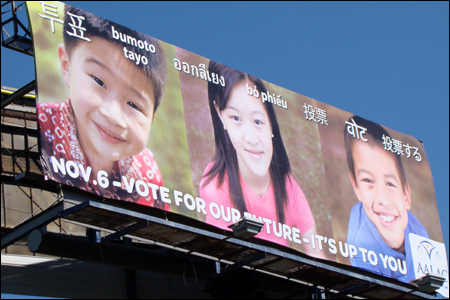 Even with all the attention social media messaging gets these days, there's still something to be said about a good old fashioned billboard. Take, for instance, this
"Vote For Our Future"
billboard that the Asian American Legal Advocacy Center unveiled this week in Gwinnett County, Georgia.
Big deal, you say? Come on, not everybody's online and all up on social media. The billboard is aimed at first generation and older immigrants, encouraging AAPI parents to model civic leadership to their children now by voting.
The billboard, which will be seen by approximately 200,000 people each day, is up on I-85 between Beaver Ruin Rd. and Steve Reynolds Parkway. Gwinnett is one of the continuously fastest growing counties in the country and home to the largest Asian-American population in Georgia.
For more information, check out the Asian American Legal Advocacy Center's press release:
Unveil of Major Billboard Campaign Urging Immigrants to Vote
. (Thanks, Helen.)