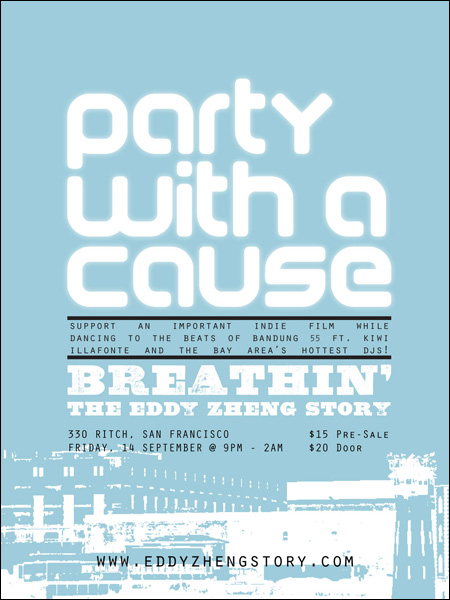 Breathin': The Eddy Zheng Story
is an upcoming documentary film is about Bay Area community leader Eddy Zheng, who served twenty years in prison for a robbery he committed as a teenager, turned his life around and dedicated himself to youth violence prevention, only to face deportation to China. He's a fascinating figure, and hopefully this film will help to share his amazing story.
The good folks behind the documentary are hosting a
fundraiser
to come up with the money to finish the film. They've received a matching grant from East Bay Fund for Artists up to $10,000, so if you're in the Bay Area and down to have a good time for a good cause, your help would be greatly appreciated.
It's basically a fun-ass dance party with Bandung 55 (featuring Kiwi Illafonte) and some of the Bay Area's hottest DJs. It's happening Friday, September 14 at 330 Ritch in San Francisco. Here are some more details about the party:
Breathin' PARTY at 330 Ritch!

Friday, September 14, 2012
9:00pm

COME EARLY to see Bandung at 10P, and stay for DJs King Most and Chickenscratch!

DOORS OPEN AT 9PM / $20 AT THE DOOR / $15 PRESALE @ http://eddyzhengstory.eventbrite.com/

WHY WE'RE DOING THIS:
BREATHIN': THE EDDY ZHENG STORY has received a matching grant from the East Bay Fund for Artists up to $10,000. This means, we have until the fall to raise as close to 10k so we can finish principal photography on the film and complete post-production.

You can support this film simply by partying to Bandung 55, featuring KIWI ILLAFONTE, and dancing the night through to some of the Bay's hottest DJs.

All donations will be matched 100% by the East Bay Fund for Artists!

For more information about Eddy Zheng, visit www.eddyzhengstory.com

Visit the Bandung 55 FB page: https://www.facebook.com/Bandung55

Special thanks to the Center for Asian American Media for their support.
Grab your friends and get on the dance floor. For more information, go to the
Facebook event
. Get your tickets
here
. And to learn more Eddy Zheng and get further updates about
Breathin'
, check out the film's website
here
.