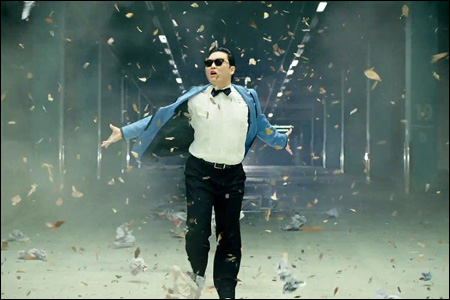 And since we're talking about "Gangnam Style"...
Korean pop music artist Psy, whose runaway global music video hit has now surpassed an astonishing 100 million YouTube views (and counting), has signed a deal with Scooter Braun's Schoolboy Records, whose roster includes Justin Bieber:
Justin Bieber's Manager Signs Korean YouTube Star Psy
.
In a video with Braun on his YouTube channel, the "Gangnam Style" singer announced on Monday that he has signed to Schoolboy Records.

"We've been hanging out in California for four days," Braun says in the low-fi video. "And we've come to an agreement to make some history together and be the first Korean artist to break a big record in the United States."

Braun, drinking the Korean alcohol known as soju next to the singer, added in the video tease, "To Psy, to Korea, to breaking down barriers, to the future. Let's do it man." Sources confirmed to Billboard.com that Scooter has indeed added Psy to his roster of Schoolboy Records artists.
This is really happening, people. Go ahead and watch it
one more time
. And if you haven't heard "Gangnam Style" on the radio yet (some stations have it on rotation), you will soon:

On the Charts: 'Gangnam Style' Is All the Rage
.