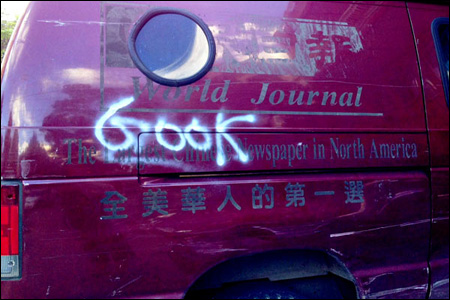 Oh hell no. This week in Queens, authorities are investigating
racist
graffiti that was discovered spray painted on two separate locations in Flushing:
Officials condemn racial slur painted on Flushing property
.
The graffiti, consisting of racial slurs targeting Asian Americans, was found on a storefront on Union Street, as well as on the side of a van belonging to the
World Journal
, a popular Chinese newspaper:
The graffiti, consisting of a racial slur directed at Asian Americans, was written in white paint on the building at 31-32 Union Street.

The epithet was discovered Sunday afternoon and reported to police Monday, when it was also cleaned.

"It is truly frightening to see this kind of racial intolerance in our community of Queens," said state Assemblywoman Grace Meng (D-Flushing). "Queens holds one of the most diverse communities in the country and this kind of behavior should not be tolerated."

The same slur was also written on a van belonging to the World Journal, a national Chinese-language newspaper in the country with offices in Whitestone.
In case you couldn't tell, it says "gook." At both sites. And people say there's no racism in this country! That's cute. Both incidents are being investigated as hate crimes. Anyone with information is asked to contact the 109th Precinct. More here:
Pols angry over 2 anti-Asian slurs
.