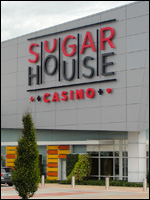 More news out of Philadelphia about robbers targeting Asians. This time, the thieves appear to be going after Asian casino winners:
SugarHouse Winners Targeted, 4 Robberies Reported: Cops
.
According to police, a criminal team is responsible for at least five incidents in the past few months where winners have been followed from the SugarHouse Casino and robbed after returning home.
In almost all of the cases, the victims were Asian:
Surveillance video captured by a neighbor's security camera shows the woman and her husband being ambushed right after they arrived back home in their Northeast Philadelphia neighborhood.

The victim, who did not want to be identified, says the two men were armed with tasers. "The guy who tased me, he dragged me down three steps, and then pulled me on the ground because the purse was on my shoulder, it stuck on my arms."

She spent three days in the hospital recovering from her injuries. The woman tells NBC10 she feels like they were being watched as they cashed out their winnings.
Police say the incidents are absolutely connected, and the robbery ring could be responsible for at least five additional robberies. Anyone with information about these incidents is asked to call the tip line at 215-686-4877.
UPDATE: The robbers appear to be working with a "spotter" inside the casino, allowing them to identify potential targets and follow them home. More information here:
Police say robbery ring preys on SugarHouse patrons
.