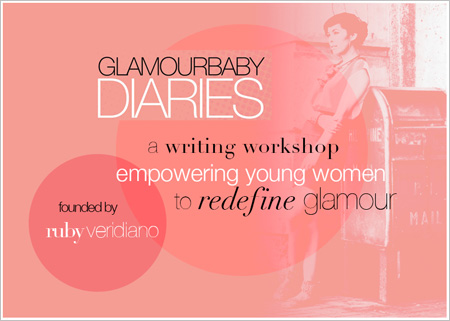 The
Glamourbaby Diaries
, created by writer/speaker (and former
Angry Reader of the Week
) Ruby Veridiano, is a writing program with a focus on women's empowerment and Asian American women's history explored through the lens of fashion.
Ruby and Co. just dropped this brand new
short documentary
on the Glamourbaby Diaries, featuring the voices of young women encouraged to redefine glamour through strength, passion and purpose:
This video kicks off the campaign to re-launch of the Glamourbaby Diaries program. Here's some more information on the workshop, in Ruby's own words:
Hello, my name is Ruby Veridiano, and I'm a writer, speaker, media personality, and a long time advocate for the Asian-American community. I first created the Glamourbaby Diaries because of my frustration with the lack of positive Asian female role models in mainstream media, and I wanted to give other young women of color the opportunity to find role models that reflect their personal history.

The Glamourbaby Diaries workshop incorporates media, art, fashion, and social change. Participants gain tools that build self-confidence, inner beauty, social awareness, and leadership, inspiring them to embrace their highest potential to become agents of change.

I chose fashion as a lens not only because I am inspired by it, but also because many young women are interested in fashion. The Glamourbaby Diaries is a bridge to connect interests in fashion with a new found passion for social advocacy.

Through this project, I hope to help young women find their voice and inspire them to explore their purpose.
To learn more, and to donate to the campaign to re-launch the program in various schools throughout California, head over to
Indiegogo
. And for further information about Ruby Veridiano and the Glamourbaby Diaries, go
here
.