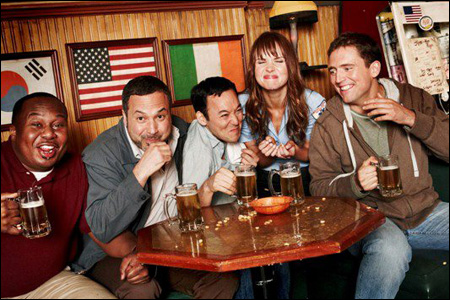 Looks like we'll be getting another shot of
Sullivan & Son
. The popular new summer sitcom, starring comedian Steve Byrne and produced by Vince Vaughn, has posted some pretty strong numbers, so TBS is ordering a second season:
TBS Orders Second Round of Sullivan & Son
.
TBS has ordered a second season of the popular new sitcom Sullivan & Son. Currently airing Thursdays at 10 p.m. (ET/PT), the comedy is averaging more than 2.5 million viewers in its first season and ranks as one of the Top 25 new summer series on television. TBS has ordered 10 episodes for the second season, which is slated to launch in 2013.
If you haven't seen the show, Steve stars as a corporate attorney who returns home to Pittsburgh to take over his family's neighborhood bar. The show's cast includes Jodi Long as Steve's tough-talking mom and Vivian Bang as his sister.
To be honest, I thought the show started out a little rough with some funny moments, but definitely found its groove. It's not my favorite show, but I'm glad there's a sitcom like this on television, and it stars a cool guy like Steve Byrne.
I'll be tuning in for season two!