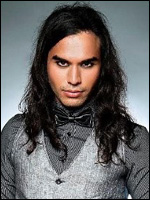 Asians behaving badly... unruly and inappropriate airplane passenger edition. This week on a United Airlines flight from Chicago to Orange County, passengers had to restrain a guy who was allegedly harassing people:
Passengers Restrain Man Accused of Grabbing Women on Flight
.
26-year-old "actor-model" Arash Durrani was reportedly behaving erratically on the flight, slurring his words, pacing up and down and scaring children. At one point, he grabbed a woman's hair and told her to kiss him.
Basically, the guy was pretty muchasking to get tackled and restrained. And that's what happened:
Pitts, who owns an Orange County salon, moved to a different seat, but Durrani followed her, she said.

"He grabs my hair and he goes, 'Nona, Nona, Nona, kiss me,'" said Pitts.

When the man started pacing and scaring children on the plane, passenger David Truong said he and other passengers took action and physically restrained the man with belts.

"He looked at every one of us and said, 'I'm going to kill you and your entire family,'" Truong said.

The man was restrained for nearly three hours.
According to the FBI, Durrani will be charged with a federal offense for interference with a flight crew. He was apparently on his way to Southern California for a criminal court appearance. Sounds like a winner!
More here:
Arash Durrani, Actor Who Goes by "Ash," Makes "Ass" of Self on OC-Bound Flight: Passengers
.