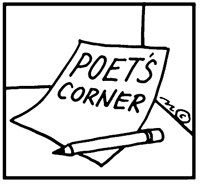 We're getting poetic up here. It's time for another installment of
Angry Poetry Corner
, a regular weekly spotlight on the work of API poets -- not necessarily angry -- curated by Cara, our Angry Asian Intern.
Because you could use a little more poetry in your life.
In the corner this week, a poem by Lan Duong:
Dragon

I crack bones with the soles of my feet. Sideways! Never vertical!, my father grunts when I walk on his back. It is straight, smooth and stiff as a gangplank. He lies prone on our thick-corded mat, his head lying next to the threaded picture of a dragon. His hands lay at his side, open. For a short time, his hands will not be fisted, balled, gripping a chinese checker piece, or wrapped around meat, muscle or bone. It reminds me of his hands in church. They sleep while the black-frocked figure at the pulpit waves his own pink hands wildly. At ten, I know this is good. I don't have to look at his eyes. They are the color of stained sheets after nightmares.

Black head. Yellow back. Blue-striped pajamas. I walk on his back. Furtive. Fearing the breaking of bones. Too sharply. Too soon. Weighing in at 85 pounds, I am the youngest of his nine children and I listen for the sharp blows of his breaths. He surrenders, right at the point where my feet are balanced on the tightrope of his narrow shoulders. I step off. He raises himself, smiles at me and chuckles. I look at his chest, the raised skin, pink and puffy. The intricate patterns of the sinewy mat are imprinted on my father's thin chest. The body of a fierce dragon. And each time, I am in wonder that I did that. I did that.
Lan Duong is Associate Professor in the Media and Cultural Studies Department at UC Riverside. She is the author of Treacherous Subjects: Gender, Culture, and Trans-Vietnamese Feminism (Temple University Press, 2012). Dr. Duong's second book, Transnational Vietnamese Cinemas: Imagining Nationhood in a Globalized Era, will examine Vietnamese cinema from its inception to the present-day. Her next creative project is a memoir of her growing up in San Jose, California.