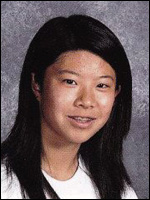 Tragic news out of the Bay Area, where the body of young women who washed ashore along the coast was identified as a missing teenager:
Body Washed Ashore ID'd as Richmond Girl
.
Authorities identified the body as 16-year-old Cathy Qiu, found dead on a beach near Half Moon Bay last weekend almost one month after she reported missing by her parents.
According to investigators, a friend contacted school administrators after seeing news reports about an unidentified body matching Cathy's description. Her identity was confirmed through matching dental records.
The questions remain -- how did Cathy Qiu die?
Investigators said a friend of the missing girl saw news reports about the unidentified body and told school administrators the description matched that of Qiu.

Administrators passed the information on to authorities and the student was identified Thursday through dental records, said Robert Foucrault, the San Mateo County coroner.

Qiu was reported missing to Richmond police on Sept. 27, Foucrault said. The coroner's office believes that her body had been in the water for 2 to 5 days when it was found near San Gregorio State Beach.

Qiu ran away from home in September, said Lt. Bisa French, a spokeswoman for the Richmond Police Department. She also had run away in April, and was later found in Colorado and returned to her family, French said.

The San Mateo County Sheriff's Office is handling the investigation into her death.
More here:
Girl's body on beach IDd as Cathy Qiu
.