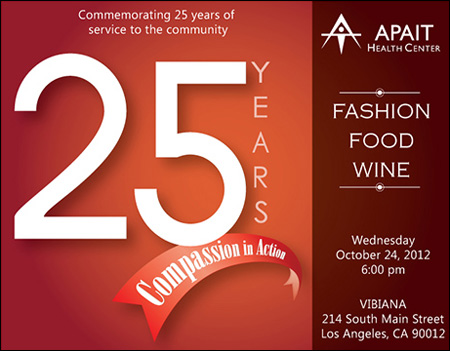 Hey, Los Angeles. Join
APAIT Health Center
for their "Compassion in Action" gala on Wednesday, October 24. This fundraising effort will benefit APAIT in its effort to provide HIV/AIDS resources for underserved communities in Southern California. Tamlyn Tomita and CBS news reporter Juan Fernandez will be your hosts, with Congresswoman Judy Cho and
Harold and Kumar's
John Cho serving as co-chairs for the event.
Compassion in Action: 25 Years of Service to the Community

Wednesday, October 24
6:00pm - 10:00pm

Vibiana
214 South Main Street
Los Angeles, California

APAIT Health Center is planning the most amazing night of the year on October 24th. We've confirmed CBS News Reporter Juan Fernandez and Actress Tamlyn Tomita (Glee, the Joy Luck Club) to host the stellar event. Honorary Host Committee Co-Chairs are Congresswoman Judy Chu and Actor John Cho (Star Trek, Harold and Kumar). Other Honorary Committee co-chairs include Tony Award Winning Actress Bebe Neuwirth, Assembly Speaker John Perez, Redondo Beach Mayor Mike Gin, actor Rex Lee, and Mayor Antonio Villarai
gosa .

The amazing band Ozomatli will be our featured musical act.

The evening will include an eclectic fashion show: menswear and womenswear, street wear to bridal wear. Designers include Cody Sai, Seng Xiong, Madisonpark Collective, Songi Bridal and Andrew Christian.

Honorees for the evening include Actor Alec Mapa, Congresswoman Roybal-Allard, and Johnson and Johnson. We promise a surprise musical guest who'll blow the roof off the joint.

6pm – VIP Reception
7pm – General Admission
8pm – Show Begins

To purchase tickets, visit the APAIT Health Center
website
. For more information, go to the
Facebook event
or contact Noel Alumit at noela@apaitonline.org or 213-572-1174.