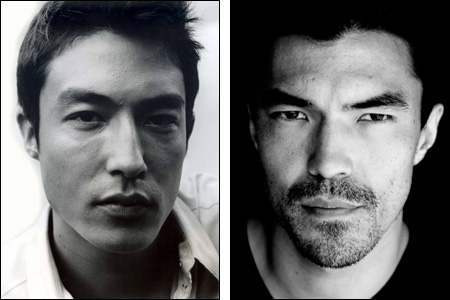 Stop the muthaeffin' presses, y'all. Just heard that Daniel Henney, Handsome Actor, will guest star on an upcoming episode of the CBS action/cop drama
Hawaii Five-0
:
Hawaii Five-0 Brings on Alex O'Loughlin's Old CBS Co-Star
.
Henney will play the criminal bad boy brother of smooth Yakuza dude Adam Noshimuri, played by Ian Anthony Dale, also handsome, who's been showing up regularly lately as Kono's beau.
Let me say that again: Daniel Henney and Ian Anthony Dale are going to play brothers. That's some damn perfect casting. I know some fans who will not be able to handle the hotness:
Before Alex O'Loughlin rode his current wave of success on Hawaii Five-0, he played an organ transplant doctor on CBS's Three Rivers. Rivers co-star Daniel Henney is now being transplanted to Hawaii for a November episode.

Henney will play Michael Noshimuri, the beefy, tattooed brother of Adam (Ian Anthony Dale), who was just released from Pelican Bay Penitentiary where he served 15 years. In other words: watch your back, McGarrett!
I hope he becomes a recurring character. Man, between Daniel Dae Kim, Grace Park, Ian Anthony Dale, Daniel Henney and all the rest, when this episode of
Hawaii Five-0
airs, it shall be officially declared the Hottest Hour of Asian Americans on Television. I will declare it.