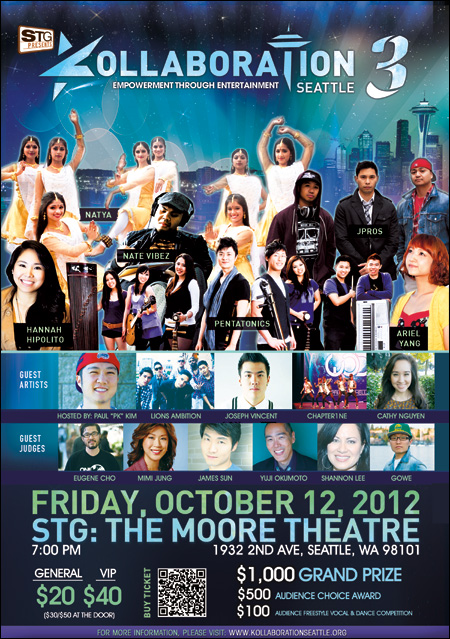 Hey, Seattle! Kollaboration is back. The third annual
Kollaboration Seattle
talent competition is back, showcasing a diverse range of Asian American performers, from classical Asian instrumentals to dance, acoustic, contemporary hip-hop and musical theater. It's all going down Friday, October 12 at the STG Moore Theatre. Here's the music video
promo
for this year's show:
Here are some more details about the show:
Kollaboration Seattle 3

Friday, October 12, 2012

Moore Theatre
1932 Second Avenue
Seattle, Washington 98101

Tickets: http://bit.ly/KollabSeattle3

Be sure to plan ahead for your tickets since seating is ASSIGNED!!

Kollaboration Seattle is proud to bring our third annual talent showcase into the heart of DOWNTOWN SEATTLE at the Moore Theatre.

We are excited for this year's competitors, who represent a diverse range of talent including classical Chinese instrumentals and dance, acoustic, contemporary hip-hop and musical theater. In addition to a $1000 grand prize, the winner of this year's show will have the opportunity to compete amongst the Top 6 out of all 12 Kollaboration city grand prize winners in the live-broadcast of Kollaboration All-Stars finale show in Los Angeles. The winner will go on to perform at this year's MNET Asian Music Awards in Tokyo, Japan!

MNET, South Korea's largest music television network, will also be filming a six-episode reality TV show series about the Kollaboration movement and broadcast to its audience throughout Asia and the US, with Kollaboration's founder, Paul "PK" Kim as the host!

COMPETITORS for the $1,000 Grand Prize:
* Hannah Hipolito (www.facebook.com/pages/Hannah-Hipolito-Music/225606714131505)
* Nate Vibez (www.NateVibez.com)
* J-Pros (www.JProsMusic.com)
* Pentatonics (www.Pentatonics.ca)
* Natya (www.facebook.com/NatyaUW)
* Ariel Yang

SPECIAL GUEST PERFORMANCES:
* Lion's Ambition (Kollaboration Seattle 2 Grand Prize Winner)
* JOSEPH VINCENT
* CATHY NGUYEN
* CHAPTER1NE (Lead by Daniel Jerome of AOM)

GUEST JUDGES:
* Shannon Lee (Bruce Lee Enterprise)
* Yuji Okumoto (Kona Kitchen & Karate Kid 2)
* Mimi Jung (King 5)
* James Sun (Pirq.com & The Apprentice)
* GOWE (Kollaboration Seattle Alum)
* Eugene Cho (One Day's Wages)

HOSTED BY: Paul "PK" KIm

PRIZES:
$1,000 Grand Prize
$500 Audience Choice, presented by Verizon
$500 Value YesStyle Most Creative Award

Don't forget we also have $100 for our Audience Freestyle Vocal and Dance Competition!
For further details, including ticket information, head over to the Kollaboration Seattle website
here
, and peruse the Facebook event
here
.