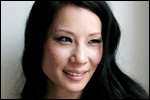 Lucy Liu has drawn some controversy for comments she made while appearing on the
Late Show with David Letterman
, saying she wanted to avoid looking "a little Filipino":
Lucy Liu doesn't want to 'look a little Filipino'
.
Oh, no you didn't, Lucy. She was talking about her preference for running on a treadmill, as opposed to outdoors, where exposure to the sun might make her skin darker -- which she apparently equates to
lookin' Filipino
:
In the talk show, Liu was discussing her regular exercise regimen with the host.

Asked by Letterman if she likes running outdoors or indoors, the Hollywood actress of Chinese descent said: "I run in a machine. It's easier for me. Also if I get really dark, I'll start to look a little Filipino, it wouldn't match. If I start getting darker, you know what I mean? I can get really dark if I'm in the sun too much."
I'm assuming that was her attempt at a incredibly stupid and unnecessary joke. Liu has since apologized for the remark, saying she never intended to insult Filipinos:
Lucy Liu sorry for 'look a little Filipino' quip
.