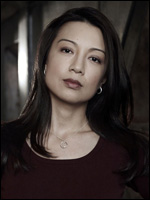 Some super-cool casting news... Fanboys, rejoice. If you haven't heard, Joss Whedon is currently working on the ABC drama pilot
Marvel's S.H.I.E.L.D.
, based on the adventures of the international peacekeeping organization featured prominently in
The Avengers
. Cool, but now even cooler...
Ming-Na, who you know for her roles in everything from
The Joy Luck Club
to
Mulan
to
Stargate Universe
and other best quality credits, will be joining the cast of
S.H.I.E.L.D.
as Agent Melinda May, an ace pilot, weapons expert and soldier:
Ming-Na To Star In Joss Whedon's ABC Pilot 'Marvel's S.H.I.E.L.D.'
.
Ming-Na will play Agent Melinda May. Soulful and slightly damaged by her combat experiences, Melinda is an ace pilot, a weapons expert and a soldier who can — and has — gone beyond the call of duty. The character was originally listed on the pilot's casting breakdown as Agent Althea Rice, aka The Cavalry. Ming-Na is the second actor cast in S.H.I.E.L.D., joining Clark Gregg, who is reprising his Iron Man, Thor and Avengers role as Agent Phil Coulson.
Interesting that the character was originally conceived with a different name and, presumably, a different ethnicity, but switched it up when Ming-Na signed on. I'm a fan and I'll definitely be tuning in when this hits the airwaves.