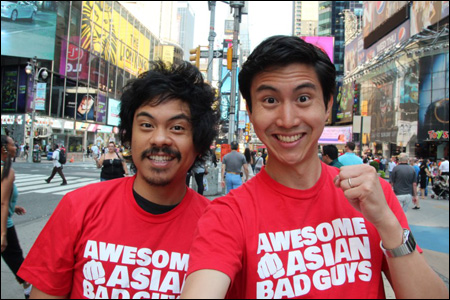 5 Questions with... The National Film Society, aka AWESOME ASIAN BAD GUYS
: Our friends Stephen and Patrick on super strengths (research and booze), their
Kickstarter
campaign for Awesome Asian Bad Guys, and playing more attractive versions of themselves.
National Film Society Interview: The Bad Guys Club
: Seriously, you should fund the National Film Society's five-episode series, Awesome Asian Bad Guys. Here's some good reasons why you should.
Real Interviews: Stephen Dypiango
: And meet Stephen, who makes one half of the National Film Society, and who's one awesome Asian bad guy.
Crowdfunding 201: Asian Bad Guys
: This is a good piece that uses Awesome Asian Bad Guys as a case study to break down down the anatomy of a successful (hopefully?) crowdfunding campaign.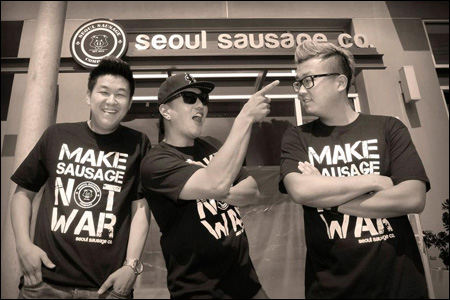 Watch Out, L.A.: Here Comes Seoul Sausage
: A post-victory interview with the guys of Seoul Sausage Co., third season winners of Food Network's
The Great Food Truck Race
, who talk about why they never actually made any sausages on the show and what they're going to do with that prize money.
George Takei: "We've got to be actively involved in the electoral process."
George Takei shares how far the AAPI community has come and why you should get involved in this election to help re-elect President Obama.
Behind The Scenes Of 'Allegiance'
: More on George Takei's "legacy project,"
Allegiance
, a musical based upon the actor's memories of internment during World War II. Here's a behind-the-scenes look.
Did Man Who Armed Black Panthers Lead Two Lives?
NPR looks into the controversial news story on Richard Aoki's possible involvement with the FBI.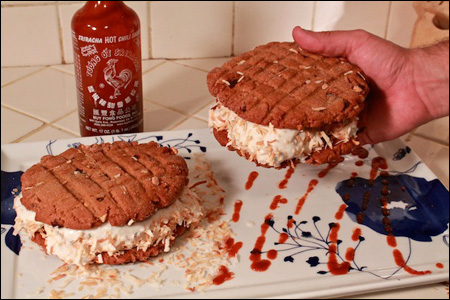 Done Right: Sriracha Ice Cream Sandwich
: How to make ice cream sandwiches with chocolate peanut butter Sriracha cookies and Thai basil vanilla bean ice cream. Yes, you read that right, and you're welcome.
I'm an Asian Male and I Refuse to Date Myself
: "After reading Jenny An's brave article on why she wouldn't ever date an Asian man and Clarissa Wei's equally heroic counterpoint, I too have come to a deep, sobering conclusion on my dating life."
Asian Americans are not campaign mud for governor's race
: Asian Americans (#Asians) should never be a political punchline.
The First Presidential Debate, Asian Americans, and Affirmative Action
: Emil Guillermo on what affirmative action means for Asian Americans, and wonders if the issue will come up at all during the presidential debates.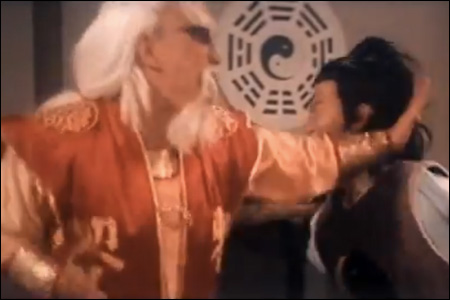 27 Of The Most Insane Martial Arts Battles Ever Filmed
: "You probably shouldn't watch these clips all in one sitting, lest your brain starts leaking out of your ears."
Westminster post office a vital hub for Vietnamese community
: Little Saigon branch has been helping the Vietnamese immigrant community adjust to the United States and maintain connections since the early '90s.
L.A.'s richest man ups the ante in fight against cancer
:[Patrick Shoon-Shiong] quietly spent more than $400 million of his own money to build a national fiber optic network that would link cancer clinics throughout the country -- the groundwork for the health superhighway."
Harlem Woman Becomes Episcopal Church's First Female Korean-American Priest
: "Everywhere else in the city, even in a diverse city like New York, people are separated from each other by race and class," says Christine Lee, a priest at All Angels' Episcopal Church.