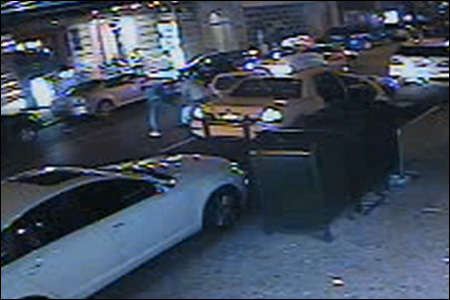 In New York, a taxi driver was stripped of his license after losing his s*!t on a passenger, tearing his ass out of cab and tossing him on the street:
Cabbie stripped of license for 'angry' assault
.
The incident occurred last April. Driver Sidikiba Diallo claims passenger Glenn Yonemitsu was drunk, vomiting and unruly in the cab. Yonemitsu says Diallo refused to drive him to his home in Sunnyside.
Whatever the case, Diallo crossed the line when he got physical. Here's some raw
surveillance footage
of the incident:
The tape shows Yonemitsu standing with friends outside Ichi Umi before getting into the cab just before 3 a.m.

Over the next seven minutes, Diallo is seen getting in and out of the taxi, opening the passenger door and apparently arguing with his passenger.

He then climbs inside the cab, where a struggle in the back seat ensues. Yonemitsu is then pushed from the cab, with Diallo tumbling out after him.

The pair grapple in the road, but Yonemitsu jumps back in the cab -- and Diallo pulls him back out and sends him sprawling across the street like a rag doll.

"It hurt a lot," Yonemitsu recalled. "I ended up with a lot of injuries that did last a long time."

The video then shows Diallo dashing into the driver's seat and Yonemitsu hopping into the back again. With the rear doors still wide open, the cab barrels down the street and around the corner -- where Yonemitsu says he jumped out and called police.
That looked like it hurt. Sometimes it's just better to get another taxi. More here:
Video: Irate Cabbie Throws Passenger Into The Street, Twice
.