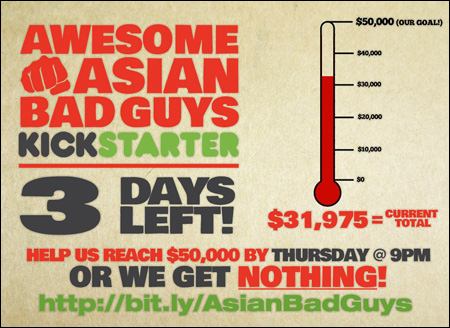 All right, I'm just going to keep posting these updates until we reach our goal. National Film Society's action/comedy web series
Awesome Asian Bad Guys
is in a mad hustle to raise some cash on Kickstarter, and they need your help.
I wouldn't be doing my job as executive producer if I didn't inform you that we only have three days left to raise $50,000. If made some great progress, but if we don't reach our goal by Friday, October 12, 12:00am EDT,
we get nothing
. Make your pledge
here
and I will love you forever.
Oh, by the way. Tune in Tuesday night, when I'll be appearing on National Film Society's latest telethon in support of our fundraising efforts. For more information on that, subscribe to National Film Society on
Facebook
or follow their updates on
Twitter
.