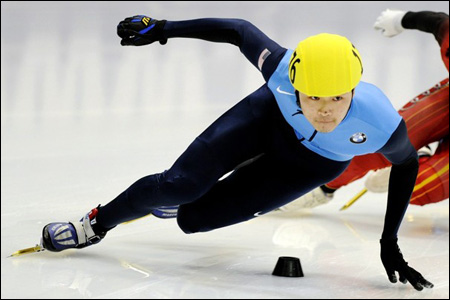 Asians behaving badly... speed skating sabotage edition! U.S. Olympic speed skater Simon Cho admitted to tampering with the skates of a Canadian rival at the 2011 World Team Championship in Warsaw, taking them out of the competition:
U.S. speed skater admits to sabotage of rival's skates
.
Cho says he was acting under pressure from his coach, Jae Su Chun, who also faces accusations that he physically and verbally abused skaters in his role as a U.S. Speedskating national team coach. Cho came clean this week, apologizing for his "poor judgment and bad sportsmanship":
The incident occurred March 20, 2011, the final day of the World Team Championships, where the Canadian and U.S. teams shared a locker room.

Cho recalls about 30 people coming in and out of the locker room, so it was hard to find a moment alone to commit the sabotage. When Cho acted, he was unaware of which Canadian's skate he had damaged with a device called a bending machine, which adjusts the curve of a blade.

"I was scared and panicky, so I picked up the first skate I saw," Cho said.

Cho bent the blade enough that Jean had to withdraw during the meet's final event, the 5,000-meter relay. Given the nature of short track, the damage could have led to a dangerous crash.

"I want to apologize to Speedskating Canada, the Canadian team and most of all Olivier Jean," Cho said.

Cho said he thinks Chun told him to tamper with the skates out of vengeance. In Cho's view, the coach was upset because he felt the Canadians had used tactics designed to hurt U.S. chances at a medal. The tampering took place after the U.S. team was out of medal contention.
Cho will likely face suspensions. Meanwhile, Jae Su Chun has publicly denied the abuse allegations. He sounds like a bad coach. At the very least, he does not sound like a very nice person. More here:
Speedskater Simon Cho: 'I just want to apologize.'