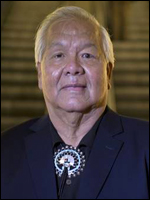 Meet
Jim Shee
, the Asian American man who has joined the federal civil rights lawsuit challenging Arizona's ridiculously tough immigration law, SB 1070:
Asian-American says Latinos not only ones hit by Ariz. immigration law
.
The law allows police to ask the immigration status of a person, stopped, detained or arrested if there's a reasonable suspicion the person is in the country illegally. This is racial profiling, straight up. But it doesn't just target and affect Latinos.
Shee, the only Asian American among ten individuals named in the lawsuit, joined the fight when he too became the victim of racial profiling -- twice within the span of two weeks -- during traffic stops where he was asked for his "papers."
Shee, a Paradise Valley, Ariz., real-estate investor of Chinese and Spanish descent, was driving to meet friends for lunch on April 6, 2010, his birthday, when he stopped on a side street in west Phoenix to check a text message.

A Phoenix police officer approached and tapped on his car window.

"Let me see your papers," Shee says the officer told him.

"That is the very first thing he said," recalled Shee, now 72.

Shee, whose civil-rights battle against Arizona's strict immigration law is credited with highlighting the law's impact beyond the Latino community, was taken aback.

Born in Tucson, Shee has been a U.S. citizen all his life. No police officer had ever asked him for his "papers."

When he asked why he'd been stopped, Shee says the officer told him, "You looked suspicious."
Shee is getting his story out there in an effort to remind everyone, particularly in the Asian American community -- the fastest-growing minority group in Arizona -- that this bullshit discriminatory immigration law can affect anyone. More here:
Asian-American joins anti-profiling lawsuit
.