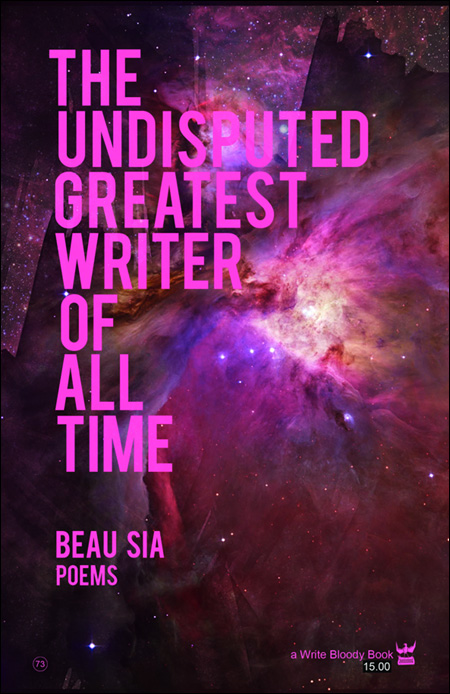 Here's all you need to know: our friend
Beau Sia
, spoken word assassin, recently published his first book of poetry in over a decade,
The Undisputed Greatest Writer of All Time
. If you're fan of Beau's work, then that's really all you need to know. But if you're the kind of person who likes to peruse the back cover before you crack open a book of poetry, then read this:
Still recovering from post concussion syndrome, The Undisputed Greatest Writer of All Time, was written as a test of his cognitive function, with the express desire to nurture his friendship with Derrick Brown. Driven by the unguaranteed nature of life, this collection of poetry bursts with urgency to understand, hunger to explore beyond one's comfort zone, and attacks the aspects that too often prevent us from having a full life. The first book of poetry by Beau Sia in over 13 years, this work is the reflection of the child no longer at the mercy of his childishness. A boy who will not break his father to be a man. A poet whose words are iceberg.
That sounds neat, and I like it. I have the utmost respect and admiration for Beau's work. I haven't picked up
The Undisputed Greatest
yet, but I have the chance to read some excerpts, including several great pieces that speak to Beau's Asian American identity. Order your copy
here
.
For more information about the legend of Beau Sia, visit his
website
.