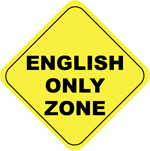 For real? In Orange County, a Vietnamese American man recently filed a discrimination lawsuit against his employer after his boss allegedly banned him from speaking Vietnamese anytime on the job:
OC Company Boss To Asian Employee: You Can't Speak Vietnamese Even On Private Time
.
Hung Trinh, a lab assistant at Quest Diagnostics Inc., says his supervisor Estela Comba had it out for Vietnamese employees, and made things particularly hostile for him in the workplace. He suffered "constant harassment" and was prohibited from speaking Vietnamese -- even on breaks or at off-duty functions. Whaaaat:
"Plaintiff believes that Ms. Comba had a problem with Vietnamese employees and specifically with him," the lawsuit stated. "Ms. Comba would prohibit him and the other six Vietnamese employees to speak Vietnamese even when they were not on company time. Ms. Comba even prohibited the seven Vietnamese employees from speaking their language at potluck parties."

According to the lawsuit, Trinh's complaints to the company's Human Resources department resulted in an even "higher level of hostility" that culminated in him being fired for an alleged unexcused work absence on Nov. 1, 2011, even though he actually worked a shift that day.
Dude can't even speak Vietnamese at the potluck?
That's racist!
Representatives for Quest Diagnostics have denied any wrongdoing but have since settled the lawsuit with Mr. Trinh. Hope you got paid, dude.