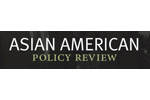 The
Asian American Policy Review
at the Harvard University's John F. Kennedy School of Government is the premier academic journal dedicated to analyzing public policies affecting Asian American and Pacific Islander communities.
AAPR
is currently accepting
submissions
for its 23rd edition, to be published in the spring of 2013. They're seeking papers exploring 1) the social, economic and political factors impacting the AAPI community and 2) the role of AAPI individuals and communities in analyzing, shaping, and implementing public policy. Here are some more details:
Selection Criteria

- Relevance of topic to AAPI issues and timeliness to current debates
- Originality of ideas and depth of research
- Sophistication and style of argument
- Contribution to scholarship and debates on AAPI issues

Submissions Guidelines

- All submissions must be previously unpublished and based on original work
- All submissions must be formatted according to The Chicago Manual of Style (please see attachment for citation examples)
- Authors are required to cooperate with editing and fact-checking and to comply with AAPR's mandated deadlines. Authors who fail to meet these requirements may not be published
- All submissions must include a cover letter with (1) author's name, (2) mailing address, (3) email address, (4) phone number, and (5) a brief biography of no more than 300 words
- Research articles should be 4,000 to 7,000 words in length and include a 100 word abstract
- Commentaries should be 1,500 to 3,000 words in length
- Media, Film, and Book Reviews should be 800-1,000 words in length
- All figures, tables, and charts must be clear, easy to understand, and submitted as separate files
The submission deadline was recently extended to December 7. If you're interested in submitting a paper, view the full guidelines
here
. You can also download and read a PDF of the 2012 edition
here
.