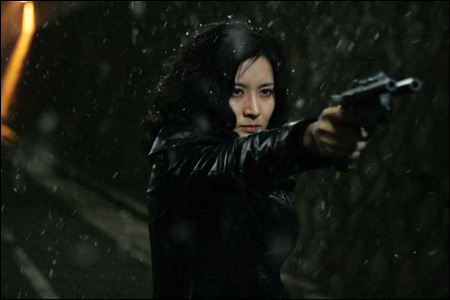 More Asian movie remake news... Plans have come together for Charlize Theron to star in a remake of the South Korean revenge flick
Sympathy For Lady Vengeance
:
Team Comes Together For 'Sympathy For Lady Vengeance' Redo: Charlize Theron To Star, William Monahan To Write
.
According to Deadline, Theron's Denver & Delilah Films, CJ Entertainment, and Annapurna Pictures are producing an adaptation of the third installment in director Park Chan-wook's revenge trilogy, to be written by William Monahan:
The original 2005 film centered on a woman who for reasons of her own completes a prison term for a murder she did not commit, re-emerging to punish the killer and avenge the dead. "This will be very American - and very unexpected," Monahan said in the release announcing the deal. "Park is a genius; it's the Everest of adaptations and I've got blood in my teeth to do it."
Contrary to what you might think, on principle, I'm not against remakes of Asian films. This one seems rather unnecessary -- Charlize Theron is no Lee Yeong-ae -- and I have little interest in watching the "very American" version of this tale. But it's going to happen one way or another.
Ah, well. Whatever comes of this, in the end, we still have Park's incredible
original film
-- one of my favorites.