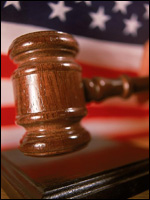 Today, President Barack Obama nominated Derrick Kahala Watson, an assistant U.S. attorney and chief of the civil division for the District of Hawaii, to a seat on the U.S. District Court in Honolulu:
President Obama Nominates Seven to the United States District Courts
.
Watson was one of seven nominees to District Court judgeships announced by the White House. If confirmed by the U.S. Senate, he would be the only person of Native Hawaiian ancestry on the federal bench. Here's some more information on his background:
Derrick Kahala Watson has been an Assistant United States Attorney in the District of Hawaii since 2007, and has served as Chief of the Civil Division since 2009. Previously, he worked at the San Francisco law firm of Farella Braun + Martel LLP, where his practice focused on product liability, toxic tort, and environmental cost recovery litigation. He joined the firm in 2000 and was named partner in 2003. Watson was an Assistant United States Attorney in the Northern District of California from 1995 to 2000, serving as Deputy Chief of the Civil Division from 1999 to 2000. He began his legal career at the law firm of Landels, Ripley & Diamond in San Francisco, where he was an associate from 1991 to 1995. Watson received his J.D. in 1991 from Harvard Law School, his A.B. in 1988 from Harvard College, and is a 1984 graduate of The Kamehameha Schools.
If confirmed by the Senate, Watson would also be only the fourth person of Native Hawaiian descent to serve as a federal judge in United States history.
Here's the Congressional Asian Pacific Amercian Caucus (CAPAC) statement on Watson's nomination:
CAPAC Applauds Judicial Nomination of Derrick Kahala Watson
.