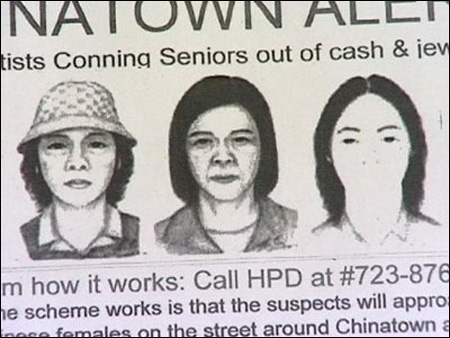 News of a variation on that
"ghost" scam
... In Honolulu, police are looking for suspects in a similar scheme targeting elderly women in Chinatown:
Police investigating bizarre scam targeting Chinatown's elderly
.
This scam involves several people approaching elderly Chinese women with a charade about an herb doctor, a fortune teller and again, evil spirits. The victim puts their jewelry and cash in a red bag for some kind of blessing ritual, there's a sneaky switcheroo, and the scammers make off with the valuables:
Honolulu police say three women were scammed and a fourth case was stopped when her son got wise to it. Police say all the suspects speak Cantonese. The first suspect would walk up to the victim asking if she knows an herb doctor. The second suspect pretends she overheard and shows them where to go. Along the way, the third suspect arrives who supposedly has a grandfather who's an herb doctor.

"The third suspect comes back out and says my grandfather is also a fortune teller and just to let you know he says your son's going to die tomorrow night cause you need to be blessed, you have evil spirits," said HPD Sgt. Kim Buffett, CrimeStoppers.

The suspect then tells the victim to gather all her jewelry and money, and bring them back to be blessed. When the victim comes back she's told to put it in a red bag, and the suspect has a similar red bag.

"And it's switched out and they're told after the blessing it's done all in front of them so they think that they're seeing their possessions. In this case, the lady took the red bag and put it inside of another bag and blessed it," Buffett said.

After the blessing, the victim is told not to open the bag for five days or the curse will come back. When the bag is opened, inside are worthless items.
The suspects are Cantonese speakers in their 30s and 40s, medium build, about five feet tall. Anyone with information is asked to contact the Honolulu Police Department or CrimeStoppers at 955-8300. More here:
Police investigating bizarre scam targeting Chinatown's elderly
.