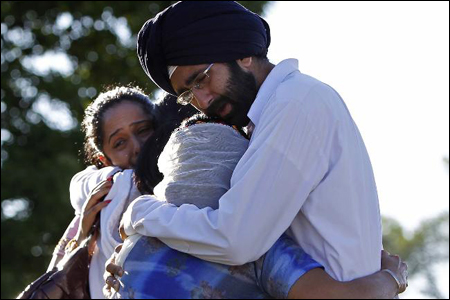 Almost missed this bit of news... Last week, the FBI released a statement outlining its findings in the investigation of the
Oak Creek Sikh temple shooting
, and have determined that the shooter acted alone:
Wade Michael Page, Sikh Temple Shooter, Acted Alone, FBI Says
.
According to federal investigators, Wade Michael Page was acting by himself, with no evidence to suggest that he had help carrying out his attack or was carrying out orders facilitated by any white supremacist group. Here's the FBI's
press release
on the investigation:
Oak Creek Sikh Temple Shooting Investigation Conclusion

Teresa L. Carlson, Special Agent in Charge of the Milwaukee Division of the Federal Bureau of Investigation (FBI), announced today the FBI is concluding its investigation into the mass shooting at the Sikh Temple of Wisconsin in Oak Creek, Wisconsin, on August 5, 2012. The FBI briefed the victims and family members of the deceased on the results of the investigation on Friday, November 16, 2012, at the FBI Milwaukee Division.

The FBI investigation indicates Wade Michael Page acted alone and was not assisted in committing this violent crime killing six and wounding four other victims. No evidence was uncovered to conclude this attack was directed or facilitated by any white supremacist group. During the shooting at the temple, Page exchanged gun fire with two Oak Creek police officers seriously wounding one, before being shot by another officer, then turning his weapon on himself. There is also no evidence to suggest the attack was part of any ongoing threat to the Sikh community.

During the course of its investigation, the FBI generated 200 investigative leads; conducted 300 interviews; and collected more than 200 pieces of evidence. Thirty agencies responded to the incident including 27 local, one state, and two federal agencies.

SAC Carlson said, "We join the Sikh community in grieving the loss of their loved ones. We continue to work with temple leaders and all of our law enforcement partners in an effort to keep the community safe."
And that's it. The statement doesn't offer any motive for why Page carried out this violent attack, killing six people. The official explanations died when he took his life. But I think it's pretty clear that Page, who had affiliations with white supremacist groups, targeted the Sikh community with hate in his heart.
The FBI needs to track hate crimes against Sikhs.
More here:
FBI says Page acted alone in Sikh temple shootings
.