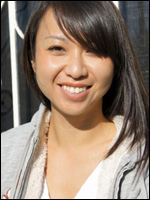 This week in Oakland, 28-year-old Giselle Esteban was found guilty of first-degree murder in the death of her former high school friend, nursing student Michelle Le:
Michelle Le Murder Trial: Giselle Esteban found guilty in nursing student's 2011 death
.
Le went missing from a Kaiser Hospital parking garage in May, launching a massive Bay Area search. Her heavily decomposed remains were found months later in a secluded area in the East Bay.
Early on, investigators quickly zeroed in on Esteban, whose past behavior -- including making death threats -- revealed a jealous obsession with her former friend. According to prosecutors, she was enraged at Le's friendship with Scott Marasigan, with whom Esteban has a young daughter:
For more than six years Giselle Esteban was obsessed with the unfounded belief that her ex-boyfriend and father of her daughter was having an affair with her one-time best friend Michelle Le.

It was an obsession that led Esteban to make death threats against her ex-boyfriend Scott Marasigan and Le.

It was an obsession that had Esteban spending months making extraordinary efforts to find Le's home address and to scour the Internet in search of ways to kill without being caught, evidence and testimony in Esteban's trial showed.

And, it was an obsession that finally led to Esteban killing Le, 26, in a Hayward hospital parking garage. On Monday, after four days of deliberations, a jury of six women and six men decided the deliberate way in which Esteban followed through on her obsession made the 28-year-old Union City woman guilty of first-degree murder. She will go to prison for, most likely, the rest of her life.
Damn. Everything about this story is just crazy awful. Esteban now faces at least 25 years to life in prison. She is scheduled to be sentenced on December 10. More here:
Giselle Esteban guilty of first-degree murder for killing nursing student Michelle Le
.