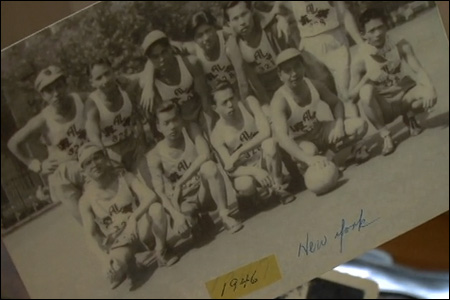 I recently heard about this independent feature documentary about the unique Chinese American streetball subculture around the sport of "9-man." If you've never heard of it, you probably didn't grow up hanging around Chinatown.
Directed by Ursula Liang, this film gives you a rarely seen glimpse of the 9-man community. The project is currently trying to raise some production funds with a
Kickstarter campaign
. Here's the video with the pitch:
And here's some more information about the project:
9-Man" is an independent feature documentary about an isolated and exceptionally athletic Chinese-American sport that's much more than a pastime. Since the 1930's, young men have played this gritty, streetball game in the alleys and parking lots of Chinatown. It started when the community was a Bachelor Society (men outnumbered women 4-to-1) at a time when anti-Chinese sentiment and laws like the Chinese Exclusion Act forced Chinese restaurant workers and laundrymen to socialize exclusively amongst themselves. It offered both escape and fraternity for men who were separated from their families in China and facing extreme discrimination and distrust. Today, some 80 years later, 9-man is a lasting connection to Chinatown for a community of men who know a different, more integrated America and it's a game that has grown exponentially in athleticism. 9-man punctuates each summer with a vibrant, aggressive, exhausting bragging-rights tournament that unites thousands of Chinese-Americans and maintains traditional rules and customs.

"9-Man" introduces the history of the game and a diverse cast of modern-day characters - from 6'7" Olympian Kevin Wong to a 91-year-old pioneer - combining vérité footage and interviews with never before seen archival footage and photos sourced directly from the community. Pivoting between oil-spotted Chinatown parking lots and jellyfish-filled banquet scenes, the film captures the spirit of 9-man as players not only battle for a championship but fight to preserve a sport that holds so much history.
The current goal is to raise $25,000 by December 21. Funds will go towards editing, archival research, music, graphics, pick-up shoots and other costs to make the film awesome. There are a variety of perks for pledging, and your donation is tax deductible. For further details about the project, and to make a pledge, go to the Kickstarter
here
.