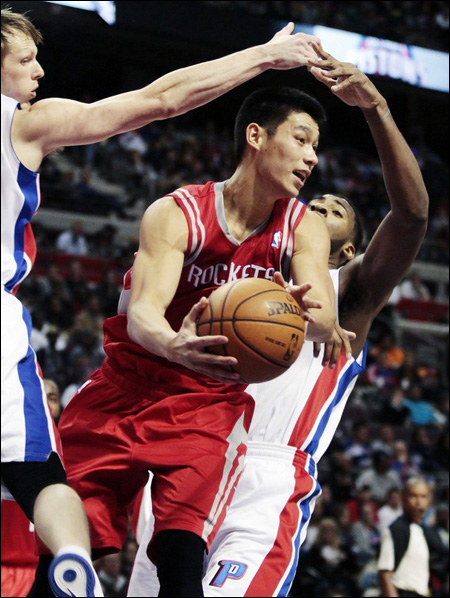 Amidst the craziness of this week, I almost forgot to note that Jeremy Lin made his regular-season debut with Houston last night, helping the Rockets defeat the Detroit Pistons, 105-96:
Lin Victorious in Debut With Rockets
.
It wasn't quite February-level Linsanity, but for those who have been looking forward to seeing Jeremy back in action after that season-ending knee injury, he was fine form. He played 35 minutes, finishing with 12 points, 8 assists and 4 rebounds. Call it next-level Linsanity:
The best of Lin appeared Wednesday in spurts, particularly during a minute-long sequence midway through the first quarter. He recorded his first points by slipping to the basket off a pump fake and completing a left-handed scoop. The next possession, he drove inside again before kicking out to Chandler Parsons, who hit a 3-pointer. After that, he stole the ball at midcourt and finished a fast break with a dunk.

The Palace of Auburn Hills swelled with applause after each of those plays, just as it had when Lin's name was announced during pregame introductions. The stands, which seemed only two-thirds full, were dotted with people wearing his jersey — both his No. 17 shirt from last season and his new No. 7 Rockets jersey. He was targeted with jeers, too, another indicator of his celebrity.

"He's a fantastic young man and fun to coach," McHale said.
It's a good start. I'm looking forward to seeing how things shape up this season. I've already bought my tickets to see Jeremy in action when the Rockets roll into town. I'll be watching from the nosebleed seats, Jeremy.