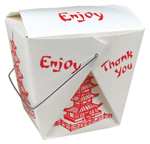 Now here's a twist on the Chinese food delivery robbery. In Connecticut, a man stole a car being used during a delivery run, then attempted to finish delivering the remaining orders to collect the cash:
Man Allegedly Steals Chinese Delivery Car, Continues Dropping Off Orders
.
45-year-old Keith Hinds was charged with third-degree larceny, possession of less than half an ounce of marijuana, possession of drug paraphernalia and failure to keep drugs in the original container. Police actually caught him in the middle of making a delivery. Nice try, dude.
Police received a call from a Chinese food delivery driver reporting that his car had just been stolen at Bristow Middle School on Highland Street after he had left it idling to run into the school, police said.

The driver also called his boss at the restaurant to tell him about the car theft, so that the restaurant could call remaining customers and tell them that their orders were stolen along with the car, police said. The people at the restaurant told the driver that one of the orders had been delivered after the theft, presumably by the car thief, police said.

With two deliveries remaining in Hartford, police were able to find the stolen car and Hinds at 55 Farmington Avenue, where police say he was making another delivery, police said.
If you're going to go through the risk of stealing a car, then go through the trouble of making those deliveries, you might as well just get a job making deliveries. More here:
Police: Thief Steals Chinese Delivery Car, Continues To Make Deliveries
.