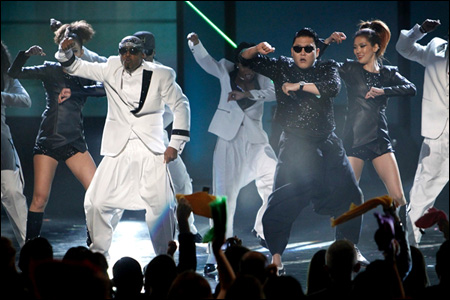 Yes, Korean rapper Psy performed at the
American Music Awards
, sharing the stage with none other than MC Hammer and bringing down the house with their live mashup rendition of "Gangnam Style" and "2 Legit 2 Quit."
But of course. At this point, I'm not longer surprised by the galactic success of Psy's runaway hit, and I'm just going with it. You could tell me that NASA is launching Psy into outer space to perform "Gangnam Style" on Mars, and I'd just be like, "Cool." That's not what this post is about.
Here's what also doesn't surprise me: fools on Twitter broadcasting their willful ignorance with racist tweets about Psy's performance. This helpful
Tumblr
has amassed a pretty sweet selection of such tweets: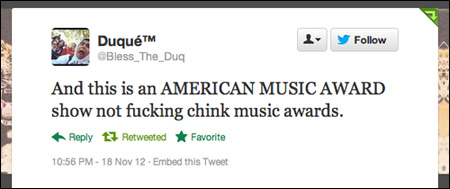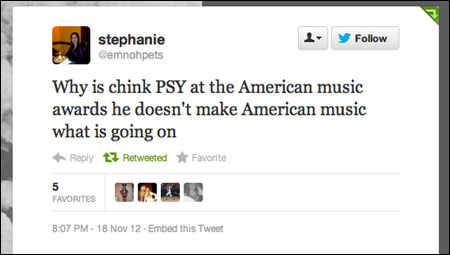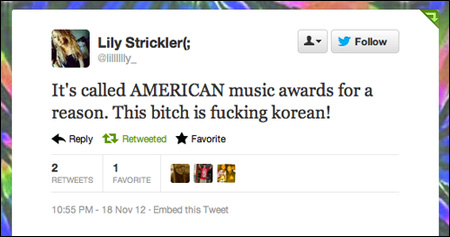 Charming. Funny, these people seem to have no problem with Justin Bieber, who is originally from Canada, or Rihanna, a native of Barbados, both dominating the awards show with a tie for the most nominations. But a Korean rapper with the biggest hit in the world performs, and suddenly the whole damn thing becomes the "fucking chink music awards." See more racist tweets
here
.