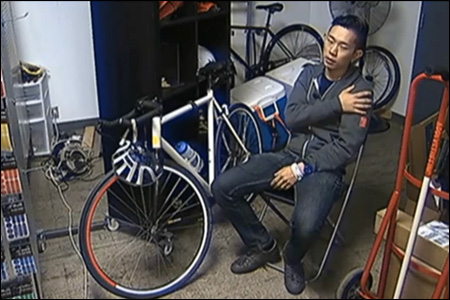 In Pittsburgh, a bicyclist says he was run down by the driver of a pickup truck that deliberately swerved, knocked him to the pavement and drove off:
Bicyclist says Squirrel Hill driver deliberately hit him
.
25-year-old Nick Drombosky was riding in Squirrel Hill when the truck came up from behind him, driving just a little too close. When Drombosky signaled for room, the asshole driver intentionally swerved into him, knocking him to the ground. He was taken to the hospital where he was treated for injuries:
Mr. Drombosky extended his arm as a reminder to the driver that a Pennsylvania law enacted this year requires vehicle operators to give at least four feet of clearance when passing a bicycle.

The reminder evidently did not sit well with the truck driver, who swerved to the right to knock Mr. Drombosky to the pavement, the bicyclist said.

The driver continued on, stopped briefly, then drove off, Mr. Drombosky said. Several witnesses were able to record the license plate number of the truck, and furnished it to police, he said.
When he fell, Drombosky hit his head on the ground, cracking his bike helmet. He suffered a torn ligament. Police have a description of the truck and its license plate, but so far no arrests have been made. More here:
Cyclist hit by truck driver in Squirrel Hill says incident was intentional
.