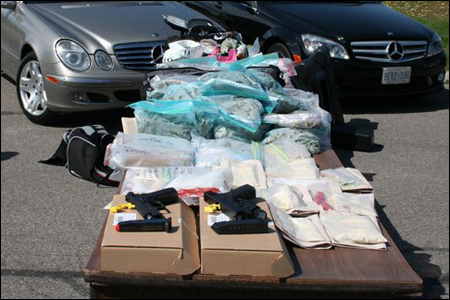 Daaaaaaang. Meet Brian Shin. Talented, well-educated corporate recruiter by day... major marijuana trafficker by night:
Tax whiz kid by day, 'mega-trafficker' by night: Man gets six years for selling marijuana
.
This is a crazy story out of Canada about a guy who was basically leading a double life between a white collar job and big-time marijuana wholesaling enterprise. Shin had multiple degrees in business, a knack and knowledge of taxation, and six-figure salary with a financial services recruitment firm.
But what he was really good at was moving marijuana. And he made he made a lot of money from it, until police busted his stash house in 2009:
His double life was revealed on Aug. 6, 2009, when Shin arrived at his secret "stash house" and was pounced on by waiting members of Durham Regional Police.

Inside, officers found what Judge McIsaac called "a buffet of illicit drugs."

Shin's gunpoint arrest, along with the arrest of 11 others and the seizure of $3-million in drugs, cash, luxury vehicles, expensive jewelry and several residences, was the culmination of Project Isis, a three-month anti-drug probe.

Shin, however, stood out from the pack.

He was talented, ambitious and well-educated, with exceptional prospects outside crime. In his reasons for sentencing, released Tuesday, Judge McIsaac said of Shin: "I doubt that a more glowing assessment has ever crossed a judicial bench."
The guy had ambition, education and business savvy. He was just in the wrong business, according to the law. Shin was sentenced to six years in prison, and ordered to serve half before applying for parole.