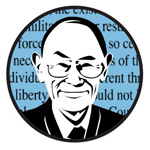 Is your name
Alice Wong
? Do you know someone named Alice Wong?
The
Fred Korematsu Institute for Civil Rights and Education
will be honoring a series of Asian American and Pacific Islander civil rights heroes in January. They're desperately trying to track down Alice Wong, great granddaughter of
Wong Kim Ark
, the San Francisco native and plaintiff in a landmark 1898 Supreme Court case that re-affirmed birthright citizenship.
Here's a 1998 article about Alice and her great grandfather's case:
The Progeny of Citizen Wong
.
If you are THE Alice Wong the Korematsu Institute is looking for, or if you know how they can reach her, please email info@korematsuinstitute.org. Spread the word.