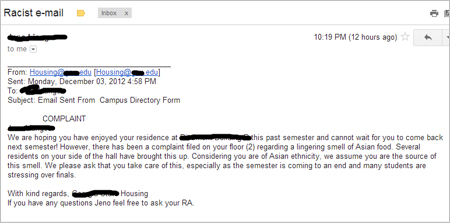 Spotted this on
Reddit
... This email, sent to an Asian student last week from someone apparently representing University Housing at Georgia State (the particulars have been partially obscured, but I'm taking an educated guess).
So get this. The Asian student is singled out regarding a complaint about "a lingering smell of Asian food." The recipient is urged to "take care of this." Here's the text from the email, with a little bit of deductive construction:
From: Housing@gsu.edu [Housing@xxx.edu]
Sent: Monday, December 03, 2012 4:58 PM
To: xxxxxxxxx
Subject: Email Sent From Campus Directory Form

COMPLAINT

We are hoping you have enjoyed your residence at Piedmont Building B this past semester and cannot wait for you to come back next semester! However, there has been a complaint filed on your floor (2) regarding a lingering smell of Asian food. Several residents on your side of the hall have brought this up. Considering you are of Asian ethnicity, we assume you are the source of this smell. We please ask that you take care of this, especially as the semester is coming to an end and many students are stressing over finals.

With kind regards, Georgia State Housing
If you have any questions Jeno feel free to ask your RA.
What's up with that, GSU Housing? That's some real sharp detective work you did there. Since Jeno here is the only Asian dude around, it
must
be him! The smelly Asian and his smelly-ass "Asian" food! Right?
I don't know if this message is legit, but a dude named Jeno Liangco did indeed receive this email and publicly posted about it on
Facebook
. I suggest that he "takes care" of it by throwing a big-ass smelly Asian food potluck party that stinks up Piedmont reaaaal good.
UPDATE: This is apparently a prank by someone exploiting a flaw in GSU's email system. Still racist, dude.