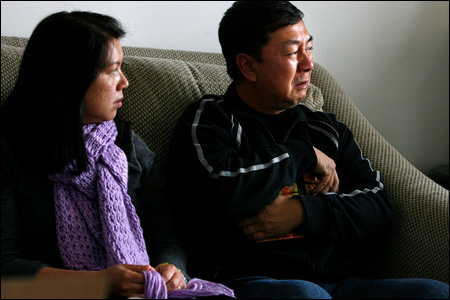 My heart breaks for this family... Just wanted to make sure you saw this
Salt Lake Tribune
article with the family of David Phan, the bullied 14-year-old junior high student who
committed suicide
outside his school earlier this month:
Utah family hopes son's suicide buries bullying
.
The family opens up to speak out about the way school officials mishandled David's situation, both before and after his death. The school district was quick to cover its ass, stating that David had not reported any incidents of bullying, and that he was "facing significant personal challenges on multiple fronts" -- basically blaming the victim.
This week, the ACLU of Utah wrote a
letter
to the school district on behalf of the Phan family, urging for a cease and desist of any further public statements about David and his family:
David's parents have expressed a deep concern that since the tragic incident, Granite School District officials, and particularly District Spokesman Ben Horsely, have been extremely inappropriate in their public statements about David and his family. In particular, Mr. Horsely has released confidential and protected information about David in violation of federal and state law, as well as making false and misleading statements and insinuations about David and his family. Most troubling to David's parents and to us is that this pattern of wrongful behavior appears to be crafted to deflect questions about any potential responsibility from the District and to try to cast blame and suspicion on David and his family. We urge you to immediately cease and desist from any further release to the public of any information about David and his family.
David's family hopes his legacy will help other gay students, especially those from minority cultures, handle bullying, and perhaps lead to better training for educators in dealing with gay youths. Read the full article
here
.