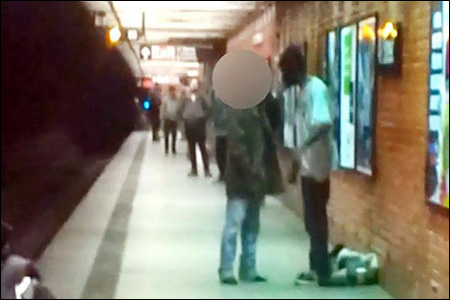 In New York, a 58-year-old man was killed after he was pushed onto subway tracks and struck by a train:
Man Pushed to Death on Subway Tracks
.
According to witnesses, Ki-Suk Han was pushed onto the tracks of an oncoming midtown train by a man who had been mumbling to himself as walked along the platform at the 49th Street station. Han tried to climb back onto the platform but didn't make it in time.
Han and the suspect apparently got into some kind verbal altercation. Police have released
video
of them exchanging words moments before the attack:
Investigators said they believed that the two men did not know each other, and that the suspect may have picked a fight:
The episode on Monday unfolded about 12:30 p.m. beneath the fluorescent lights of the station, which opens onto Seventh Avenue. One entrance is just steps from Father Duffy Square, a few steps north of Times Square, where tourists and theatergoers line up at a booth that sells discount tickets to Broadway shows.

Several bystanders were treated at the scene, apparently for shock or trauma, fire officials said.

Mr. Browne said that moments before the episode, witnesses saw a man who was "talking to himself."

"He gets into an argument and is pushing and shoving," Mr. Browne said, "and at least one witness felt that the aggressor was emotionally disturbed."

The man approached the victim, and "the two exchanged words," Mr. Browne said.

The man pushed the victim onto the tracks. "As he attempted to climb out of the well, he was struck by the train and got wedged between the platform and the train car," Mr. Browne said.
The attacker remains at large. According to police, he is described as a black man in his mid-20s wearing a tan shirt and black pants who was carrying a black jacket and wearing a woolen hat. More here:
Straphanger killed after being pushed in front of oncoming train in midtown Manhattan
.
And shame on this f%cking
New York Post cover
.
UPDATE: Police reportedly have a suspect in custody:
Suspect Being Questioned in Deadly Subway Push
.