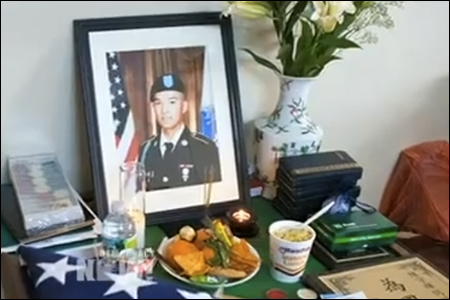 This is a bit short notice, but if you're in the New York City area on tomorrow morning, come to Chinatown, where there will be a press conference regarding the last of the eight soldiers charged in connection with Private Danny Chen's death and the next steps in the community's campaign for justice.
It's happening Tuesday, December 18, 10:30am at the Chinese Consolidated Benevolent Association. Here's the press advisory:
PVT. DANNY CHENS PLATOON LEADER WILL BE REMOVED FROM THE ARMY

LAST OF THE 8 PUNISHED IN CONNECTION WITH THE DEATH OF PRIVATE DANNY CHEN

FAMILY AND THE COMMUNITY WILL DISCUSS THEIR REACTION TO THE COURTS MARTIAL OF THE 8 SUPERIORS

AND

NEXT STEPS

WHEN:
TUESDAY, DECEMBER 18, 2012, 10:30 AM

WHERE:
Chinese Consolidated Benevolent Association
62 Mott Street, 2nd floor
Chinatown, Manhattan

WHO:
Yan Tao and Su Zhen Chen, Dannys Parents
Raymond Dong, Dannys friend
Elizabeth R. OuYang, President, OCA-NY
U.S. Congresswoman Nydia Velazquez (invited)
Margaret Chin, New York City Councilwoman
Grace Meng, U.S. Representative (invited)
Ron Kim, New York State Assemblyman
Paul Ng, Chinese Consolidated Benevolent Association
Wellington Chen, Chinatown Partnership
Sook Ling Lai, Chinatown Head Start
Ivy Lei Teng, Baruch College
(List in Formation)
If you can make it, your community support is appreciated. Also be sure to read this op-ed piece on the case by attorney Elizabeth OuYang, President of OCA-New York:
Justice Still Not Served in Private Danny Chen's Case
.
UPDATE:
Danny Chen Hazing Trial: Mother, Suzhen Chen, Says No Justice Was Served In Soldiers' Punishments
.