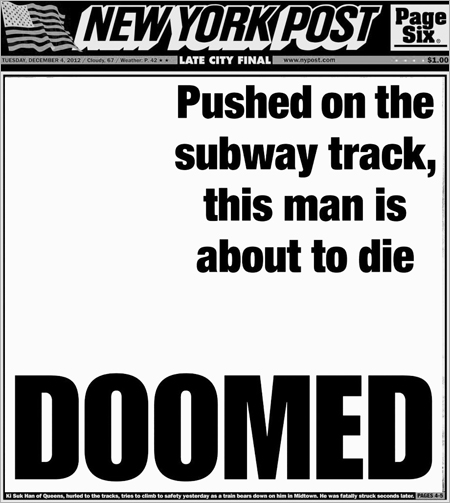 New York Post Subway Photo: Is Ki Suk Han's Last Moment Just Another Cheap Thrill?
: Ki Suk Han, sensationalist headlines, and the desensitization of the American public.
Muslims in Queens Attacked by Bigots and the Media
: Bashad Ahmad was beaten and stabbed repeatedly as he entered a mosque one morning in Flushing, and the media chose to focus on Ahmad's wish to retaliate against his attacker. Sonny Singh responds.
Looking back on racial violence at South Philly High
: On December 3, 2009, South Philadelphia High School Students, Asian immigrant students became the target of repeated, racially-charged attacks. The school's failure to respond to the bullying and violence led to a student-organized boycott that lasted eight school days and gained nationwide attention. Duong Nghe Ly, one of the boycott organizers, reflects on that time.
Cashing in on Gangnam Style's YouTube fame
: One song. One horse dance. How Psy is set to earn millions from YouTube ad revenue and iTunes downloads of "Gangnam Style."
'Gangnam Style' Rapper Psy Apologizes For Lyrics About Killing Americans
: As the video for "Gangnam Style" quickly approaches its
one billionth
viewing, Psy's past lyrics come back to haunt him.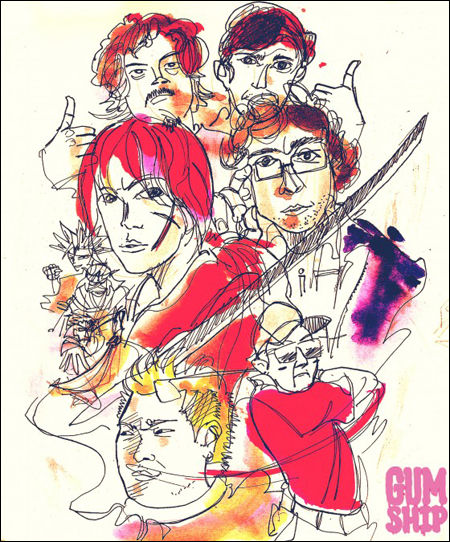 Men of the Year 2012
: Gumship has kicked off its year-end mega-list of Asian dudes who made a difference in 2012, including friends to this blog like National Film Society, Hari Kondabolu and that guy who punched out the racist comedian (okay, I don't really know that guy, but I want to be his friend.)
Incredibly Strange and Ridiculously Cheap: Albert Pyun's 30-Year Career in B-Movies
: io9's got a fascinating conversation looking back at the thirty-year career of legendary low-budget moviemaker Albert Pyun.
Gene Hong Interview
: Elizabeth Jayne Liu of Flourish in Progress interviews Gene Hong, a writer for the NBC comedy
Community
.
5 Questions with Grace Lee
: An interview with writer and direct Grace lee, whose film
Janeane from Des Moines
featured at this year's Toronto International Film Festival.
Episode 2: 9-Man Documentary
: Nine-man is a streetball game played by Chinese American and Chinese Canadian men. Ursula Navarro and Theresa Liang talk to Steven Lebron about their Kickstarter project to make a documentary about the game.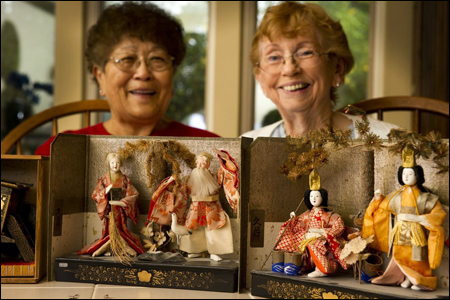 Japanese dolls returned to owner 70 years after internment camps separate Sacramento schoolgirls
: Seventy years after her family was sent to Tule Lake, a woman is reunited with an old friend and the Japanese dolls she entrusted to her for safekeeping.
The Perfect Match
: A sci-fi short story by award-winning writer Ken Liu, from the current issue of
Lightspeed Magazine
.
Replenishing the Missing Darkness with Rachael Yamagata
: "At her best, Yamagata's songs of heartache are the equivalent of an unsteady stare-down -- alternately cold, teary, or wistful, depending on the severity of the offense."
How Gossip Transformed the Legal Industry
: David Lat, the managing editor of the blog Above the Law, keeps judges and lawyers in check.
FOOTBALL: Centennial's Yim made best of tough situation
:"I'm not the biggest guy, and I'm also Asian. A lot of people hear my name and underestimate me. I'm going to go 100 percent on every play, and if someone overlooks me because of my size or my name, that's their mistake."