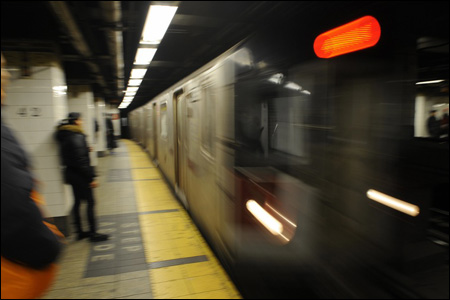 In New York, police have arrested and charged the suspect allegedly responsible for fatally shoving a man off a subway platform into the path of an oncoming train:
Police Arrest Suspect in Subway Death
.
Naeem Davis, a 30-year-old street vendor, was taken into custody about a block from the subway station where witnesses say he got into a verbal altercation with Ki-Suk Han before pushing him onto the tracks to his death.
Davis confessed and is charged with second-degree murder:
Detectives questioned Mr. Davis, 30, for hours at the Midtown North precinct station, and Paul J. Browne, the department's chief spokesman, said that during questioning Mr. Davis made statements implicating himself in the crime.

The murder charge was announced on Wednesday after the police rounded up witnesses and conducted a lineup for witnesses to identify the attacker. The police initially said Mr. Davis was also charged with attempted murder but later said that was incorrect.

Cellphone video recorded by a subway rider on the 49th Street station platform showed what appeared to be a confrontation between Mr. Davis and Mr. Han. A freelance photographer working for The New York Post, who was also on the platform and took pictures of Mr. Han seconds before his death, said he had seen Mr. Han "flying through the air and onto the track."
Meanwhile, there's continued controversy over the freelance photographer who used the moment to take a photo of the struggling victim just before he was killed by the oncoming train (which the
New York Post
tastelessly plastered on its front page) instead of, you know, trying to help him:
After Fatal Subway Shove, Asking: Were There No Heroes?
Han's daughter lamented that it "would have been great" if someone had tried to assist her father as he was trying to climb off the tracks. But nobody helped. Heartbreaking:
Pushed NYC subway rider's daughter says it 'would have been great' if someone had helped him
.