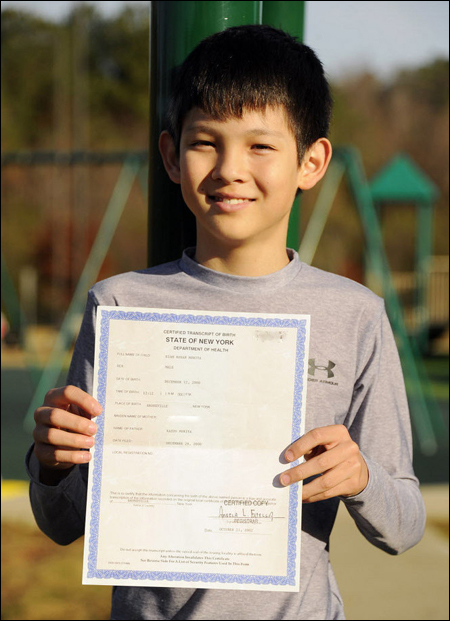 A big happy birthday to Kiam Moriya, who turns 12 years old today. But it's not just any old twelfth birthday. Kiam was born on December 12, 2000 at 12:12pm, which means he will turn 12 at 12:12 on 12/12/12. No joke! That's a lot of twelves:
Kid will turn 12 on 12/12/12 at 12:12
.
Kiam Moriya is just one of thousands of people in the United States who will turn 12 on Wednesday --- 12/12/12.

But Kiam, who loves BMX bike racing, TaeKwonDo and "just about anything with wheels or blades," according to his mother, has a distinction few of the others share. Kiam was born at 12:12 p.m., on December 12, 2000.

He says his friends are skeptical when he tells them about the freakish alignment of 12s.

"Most of them didn't believe me," Kiam said.

But he has the facts on his side, as backed up by his New York state birth certificate.
In lieu of a birthday cake, Kiam has requested Krispy Kreme donuts arranged in the shape of a 12. Happy birthday, kid. More here:
'One minute out of a lifetime:' Kiam Moriya will turn 12 on 12/12/2012, at 12:12 p.m.