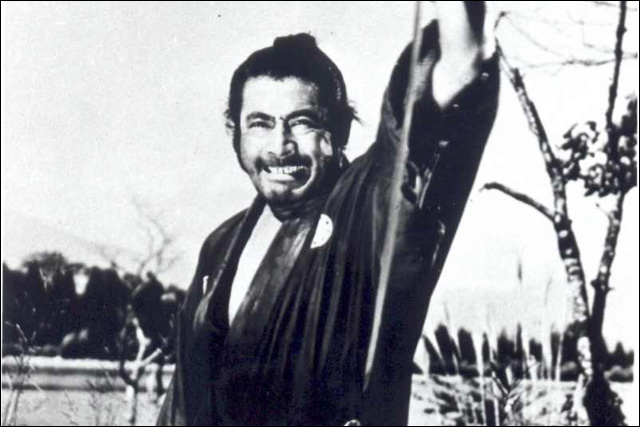 The
Star Wars
Universe as we know it could have been
very
different if George Lucas' original casting choices had come to pass...
Star Wars
trivia-heads know that Lucas' originally approached Toshiro Mifune to play the role of Obi-Wan Kenobi. But according to the daughter of the legendary Japanese actor, he was also offered the role of Darth Vader:
'Seven Samurai' star Toshiro Mifune: The would-be face of Darth Vader?
Mika Mifune revealed this interesting behind-the-scenes tidbit last weekend on the world history game show, "Sekai Fushigi Hakken!" Vader's now-iconic helmet was apparently designed with her father in mind, and if he had accepted the role, his face would've been at least somewhat visible.

Even though Mika's claims should be taken with some skepticism as her account certainly isn't first-hand (she was born in 1982), they're certainly believable when one considers Lucas' fascination with Japanese cinema -- and the Japanese star. "Star Wars" was heavily influenced by the works of Akira Kurosawa, particularly his "hero's journey" tales such as "Seven Samurai" and "The Hidden Fortress," and it's no secret that Lucas really, really wanted Mifune to be in his movie.
That's crazy... and even crazier when you think of the greater implications for
Star Wars
lore, since it is revealed in subsequent chapters of the iconic franchise that (SPOILER!) Darth Vader is Luke Skywalker and Princess Leia's father. That family secret would have been a little hard to explain with Mark Hamill and Carrie Fisher in their respective roles. But man, what could have been.
More here:
How Star Wars Might've Had a Different Darth Vader
.
And in other samurai movie/
Star Wars
news, director Zack Snyder is rumored to be developing a stand-alone feature film loosely based on Akira Kurosawa's
Seven Samurai
, set in the
Star Wars
universe. In theory, that actualy sounds kind of awesome:
Zack Snyder Is Developing a Star Wars Film Outside the New Trilogy
.