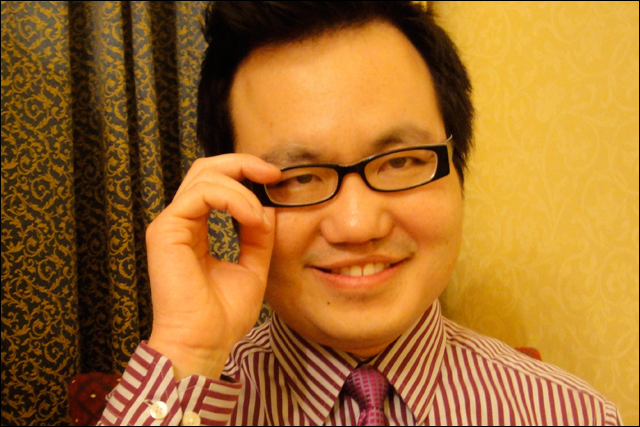 It's 2013! Let's all gather 'round to meet the year's first
Angry Reader of the Week
, spotlighting you, the very special readers of this website. Over the years, I've been able to connect with a lot of cool folks, and this is a way of showing some appreciation and attention to the people who help make this blog what it is. This week's Angry Reader is Timothy Yu.
Who are you?
Tim Yu: poet, scholar, Jeremy Lin fan.
What are you?
Second-generation Chinese American.
Where are you?
Madison, Wisconsin, a beautiful city with good food, great beer, and lakes that are lovely even when they're frozen.
Where are you from?
Born and raised in the Chicago suburbs. I've also lived in Boston, the Bay Area, and Toronto. Of course, when an elderly gentleman approached me in a restaurant on the South Side of Chicago and asked me this question and I answered it, he said, "Oh, I'm sorry, I thought you were a visitor to our great land, and I wanted to welcome you in my role as an ambassador of Jesus Christ!"
What do you do?
I'm a professor of Asian American studies and English at the University of Wisconsin-Madison. I've taught there for about four years; I taught at the University of Toronto for several years before that. My main interests are in Asian American literature, particularly poetry -- I recently participated in a
Hyphen roundtable
on the subject. My book
Race and the Avant-Garde: Experimental and Asian American Poetry since 1965
won the Book Award in Literary Studies from the Association for Asian American Studies. I'm working on a new book that looks at Asian poets in the US, Canada, and Australia. I just finished teaching a course on Asian Americans and science fiction, and I'll be teaching a class on Asian American graphic novels in the spring.
I'm also a poet. I've been a fellow at
Kundiman
, which runs a wonderful retreat for Asian American poets, and my collection Journey to the West won Kundiman's Vincent Chin Memorial Chapbook Prize. I'm currently working on a project called
100 Chinese Silences
, which takes off from a poem by former U.S. poet laureate Billy Collins; the poem talks about the "one hundred kinds of silence" that the Chinese believe in, but later admits that these 100 Chinese silences were "just made up." I took it upon myself to write these silences, which for me became a symbol of the way Asia and Asians are present, yet silenced, in American culture. The first poems in the series are parodies of Collins poems that talk about China; others who get the silent treatment include Ezra Pound, David Sedaris, and Rupert Murdoch's wife Wendi Deng. The first 15 poems in the series have been published as
15 Chinese Silences
, a chapbook available from Tinfish Press. Other selections from the series can be found in
Lantern Review
,
SHAMPOO
,
Kartika Review
, and
Mantis
.
What are you all about?
Writing and reading; my lovely, brilliant wife and my adorable daughter; politics; Linsanity (some of my observations on the phenomenon are
here
and
here
).
What makes you angry?
About a year ago I wrote a blog post called
"Has Asian American Studies Failed?"
It was basically a rant about the fact that despite five decades of work in Asian American studies, mainstream America still seems largely ignorant of the lessons of Asian American scholarship and activism. Put simply, Asian Americans still aren't part of the public conversation about race in America. That should make us angry, but we should also ask what else Asian American scholars, writers, and activists can do to make ourselves part of the conversation. Blogs like angry asian man have been crucial in pushing that conversation forward.
(photo credit: Robin Valenza)